The Region of the São Francisco's Valley
---
The São Francisco Valley is the region that borders the São Francisco River in the States of Minas Gerais, Bahia and Pernambuco . It is a fertile area and has received several investments in irrigation by federal Government to became one of greatest fruits and vegetables producer in the Brazil.
The most developed sub-region in São Francisco Valley is situated between the cities of Juazeiro (Bahia) and Petrolina (Pernambuco), which became the largest urban conglomeration in the semiarid region. Its production is almost entirely exported through Petrolina airport and the port of Suape, both in Pernambuco State.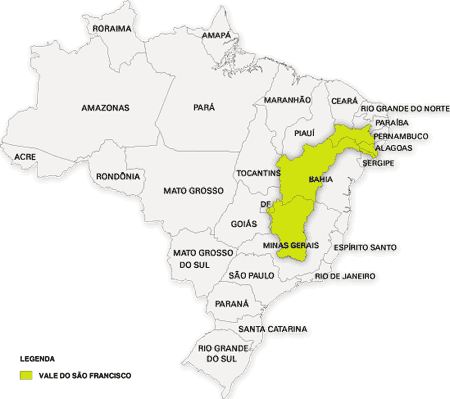 Brazilian semi-arid
---
The semiarid region covers an area of 982,563 km ², extending from the north coast, through the states of Ceará and Rio Grande do Norte, to the north of Minas Gerais, including the states of Paraíba, Pernambuco, Piauí, Bahia, Alagoas and Sergipe.

The rainfall in the region has two distinct seasons: the rainy season , which lasts 3-5 months and drought lasting 7-9 months. These conditions, among others, determine the success of farming, especially caprinovinocultura. Historically occurred in the area major droughts or major floods every 100 years, of which approximately 20 years are dry .

The Caatinga is the predominant ecosystem in the semiarid region, with vegetation composed mainly of shrubs and thickets, harboring species with high scientific and economic value as umbuzeiro, mororó, aroeira, baraúna, umburana, manioc and faveleira . In common , these species are characterized by hardiness and tolerance to salinity , drought stress and high temperatures. Most plants Caatinga features adaptive mechanisms, such as leaves transformed into thorns highly impermeable cuticle, succulent stems, leaves falling in the dry season to reduce loss of water and the presence of well-developed root systems to increase the absorption capacity of the soil water.